2014 NJCAA Swimming and Diving Championships Florida, USA – March 2014

Xiomara was the fifth in the 100 yard backstroke. She finished at 1:00.04. With this result she broke the record of her school. The record was since 1998 from Tadla.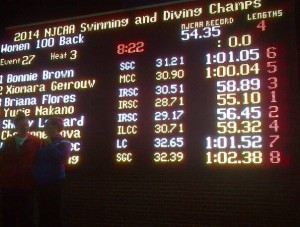 With her team members Laura Steuerman, Liz Maier and Rose Louk she became third in 1:53.56 at 200 medley relay. On the 400 freestyle women relay this team took third in 3:46.75.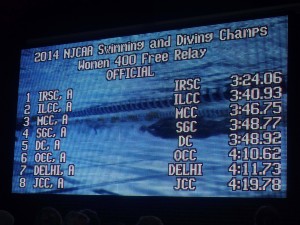 Region III/Northeast District Championship meet 2014 – February 2014
Xiomara and her brother Tariq did very well during this meet in february 2014.  Xiomara Getrouw won bronze on the 500 free, silver on the 100 backstroke and again silver on the 200 backstroke.Tariq won gold at the 200 IM, gold at 100 breaststroke and silver at the 200 breaststroke. Tariq also won the 100 breast in 1:02:78
The Surinamese Sport website SME Sport also reported about the performance of Xiomara and Tariq getrouw at the meet in February 2014. Another article about this meet was posted on the website of the Suriname Herald.